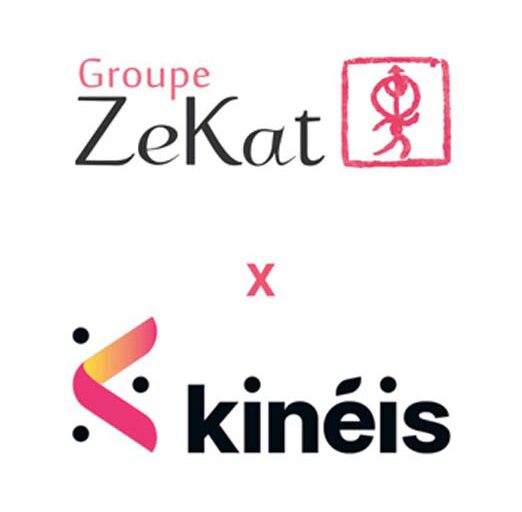 AS PART OF THE IOL PROJECT (INTERNET OF LOGISTICS) SUPPORTED BY THE FRANCE RELANCE PLAN, GROUPE ZEKAT ANNOUNCES A FIRST PARTNERSHIP WITH KINÉIS.
Groupe ZeKat recently announced the launch of its IoL project with the support of the France Relance plan. With an investment of €4 million, this project aims to create an ecosystem around an IoT logistics platform. True French backbone of information feedback, localization and contextualization for logistics, the gateway at the heart of this approach must be able to communicate on multiple networks.
This is why we have launched a partnership with Kinéis, the French specialist in satellite connectivity for the IoT. We are proud to be associated with this flagship of NewSpace, created by CNES (Centre National d'Etudes Spatiales) and CLS (Collecte Localization Satellites) in 2018 to democratize Argos technology and extend it to the entire space market. 'IoT.
The first objective of this partnership is to develop a BLE (BlueTooth Low Energy) gateway to Kinéis, to retrieve data from multiple sensors and transmit it simply and everywhere. Subsequently, Kinéis connectivity will be integrated into our solutions and can be combined with other technical solutions such as 5G IoT (LTE-M1 and NB-IoT) or LPWAN networks. This combination optimizes the communication coverage.
This partnership shows the commitment of the ZeKat Group in the development of multi-connectivity strategies in the world of IoT. This desire has already resulted in the filing of 4 patents, the launch of the HIJ then IoL project and the change of identity of our subsidiary Lucio dedicated to embedded developments, which will present at CES® 2022 its new multi- dynamic connectivity.
If you too would like to participate in the construction of the next French IoT logistics platform, do not hesitate to contact us to participate in the IoL project or come and meet the group's teams present at CES®.